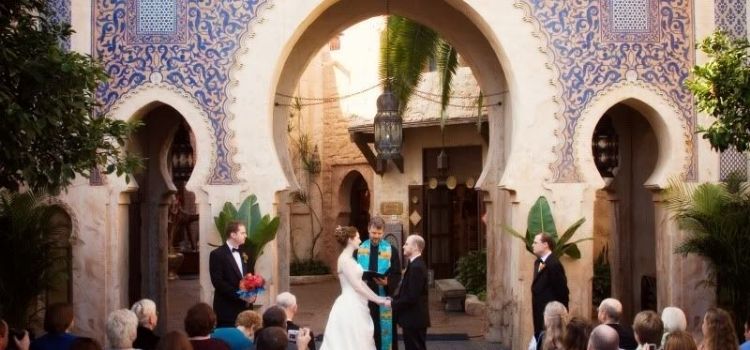 Our Morocco Tours are the Honeymoon Packages to Morocco hub where all honeymooners from around the world would be able to tailor made Morocco Tours based on their interest, desire, and budget for a journey of a lifetime.
The charming city of Essaouira
Morocco is an exotic destination. From a romantic beach vacation like the charming city of Essaouira to relax and blinding with the culture. The 60's music legends Jimmy Hendrix and the Rolling Stones were drawn to Essaouira's idyllic charm, which continues today to lure musicians and artists alike to the sparkling whitewashed fishing village trimmed with the brilliant azure of its skies. Its stone ramparts overlook an emerald sea where dolphins sometimes frolic near the fringe of the silvery beach, and camels ferry passengers across fine sand. Dream on the beach, stroll through serene squares, browse artisan shops or the fish market, bursting with a plethora of fruit of the sea to be grilled to a succulent finish before your eyes. Top it your repast with the national drink of Moroccan mint tea and savor delectable French pastries at one of Essaouira's many charming cafes.
Agadir, the Imperial Cities and the Desert
The other beach option is Agadir often called the Miami of Morocco for olden sandy beach and its nightlife. Wonder around the ancient imperial cities like Fez and Marrakech, and to explore some of Morocco's best highlight, riding a camel for the sunset on the dunes on one of our Sahara Desert Morocco Tour, and spending a night at a Royal tent within our Merzouga luxury desert camp. Explore the mystical Saharan landscape as you ride on a camel over the stunning sugar-fine sands of Merzouga as the red sun sinks. As night falls, listen to the heady intoxicating beat of Berber drum music and song during the traditional pouring of mint tea., and delight in a Moroccan feast of harira soup, a savory tagine (stew with meat and vegetables) or couscous, etc…… Vegetarians and vegans are welcome. At nightfall, You'll sleep under a nomad tarp beneath flickering stars in the clear desert sky. Experience a sense of timelessness in the still, silent desert unchanged since caravans loaded with spices, gold and indigo crossed long ago.
The Berber Villages and the High Atlas Mountains
So many places to go in Morocco exploring its hidden paths like spending a night or two within a charming Kasbah at the high atlas mountains while visiting and learning about the Berbers, the native moroccans and their daily life style. Valley of Ourika rises gently up to the preliminary hills of the High Atlas where small typical villages have nested. It is a pure and magnificent place where silence is only " disturbed " by birds singing, water streams, and wagtails. Ourika is famous for its pottery, minerals, and crystal. 
Chefchaouen, The Blue City
Another magical Morocco for Honeymoon special place to visit is Chefchaouen, often called the Blue City. In the North of the country, nestled in the Rif mountains, and a short trip from Tangier is the small picturesque town of Chefchaouen. Founded in 1492 by Moorish exiles from Spain, the town is decorated in a mixture of whitewash and every shade of blue, from pastel sky tones to deep indigos. The effect is dreamlike, making this an extremely romantic place for a couple of days. Dinner in the ancient city on your own. Overnight & breakfast at your charming riad in Chefchaouen.
Feel free to select any of our guided tours Morocco the following luxury tours Morocco has to offer or feel free to let us know if you wish to modify or change anything from any one of them.

Customize My Morocco Tour

Contact Us at (212) 925-6151 to Book this Tour of Morocco.

Map of Morocco
Morocco Adventure Tour
The Moroccan Adventure Tour is one of our Best Guided Tours Morocco, including the Sahara Desert Morocco Tour for a journey of a lifetime. We've packed the very best of holiday destinations Morocco. Now, the experience can be yours.

This Moroccan Journey is specifically designed to give the traveler the broadest sense of Morocco, its culture, people, geography, and cities. Be prepared for an extraordinary travel experience.

This journey lasts 10 days and can be customized with a private car or luxury van and driver according to your travel dates.
Morocco Culinary Journey
This Morocco Culinary Journey and Best Hidden Path are to experience a culture through a cuisine that is a fascinating mix of Arabic, Berber, French, sub-Saharan, and even Jewish influences. On our Moroccan cultural and culinary tours, is one of our best Private Tours to Morocco, and to help you learn how to travel in Morocco. You'll visit a larger than life mosque in vibrant Casablanca, wander through the ancient Arab Imperial city of Fez, explore the dunes of the Sahara on camel-back within the Sahara Desert Morocco Tour, relax in a tiny Berber village in the High Atlas Mountains, and finally, discover extraordinary Marrakech, the most African of Morocco's cities. Along the way, you'll experience first-hand by staying at some of Morocco authentic riads of different influences that have made Morocco what it is today by delving deep into the local culture and Morocco food. We will bargain at souks, visit Berber villages, learn to cook the local cuisine, tour the highlights of each area by joining our best guided tours Morocco.
Last minute Holidays Morocco
Morocco Travel Agency would be happy to assist you with your last minute Holidays Morocco has to offer to make your Morocco Honeymoon trip very enjoyable. All you have to do is to book your own airline ticket based on your desired travel dates. To make it simple fly in and out of Casablanca, and allow us to do the rest on your behalf. If you only have 3 or 4 days, you can do Marrakech and area or Fez and area. But if you have 1 or up to 2 weeks, you can select any of the following trips, and we can customize it for you based on your desired travel date.