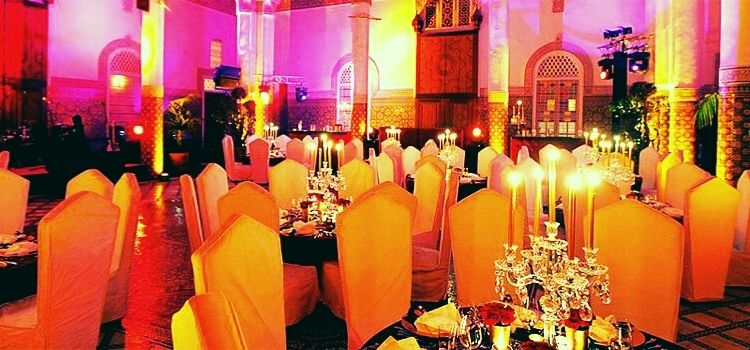 Welcome

We offer our clients sumptuous surroundings, gourmet cuisine, ancient palaces, and internationally recognized luxury hotels for their Morocco Events Planning.

The bustling cities of Morocco are the perfect setting for Director's meetings, Annual Sales Meetings, and other corporate functions for global companies with operations in Europe and the United States. For all your Morocco corporate meetings and conference, Morocco vacation spots planning needs in Morocco, we offer outstanding business comforts in Morocco.

Contact Us / call us / WhatsApp us at (212) 925-6151 to Book These Special Morocco Events Planning or Business Conferences, Morocco for Honeymoon, Moroccan Wedding Ideas, Get Married morocco.

Map of Morocco
Morocco Corporate Events Planning
With offices in NY and Morocco, we specialize not only in providing exotic tours to Morocco but also in the design, plan, and coordination of special Morocco corporate events or trips. For a luxury golf vacation in Morocco, playing the best golf courses in Morocco, and staying in the best golf resorts, let us be your event planner in Morocco. From the coordination and production of fabulous fetes and successful symposiums to arranging fashion shoots and private parties, we will meet your needs, whatever they may be. We scout locations, provide transportation, produce marketing material and invitations, arrange exotic entertainment, create a sumptuous menu, all custom-tailored to meet your needs and budget.
Morocco Vacation Spots, Reunion & Group Travel
Our Morocco travel team brings together their unique creativity and technical expertise to make your Morocco family vacation, reunion, scouting tour, celebrations, weddings are as unforgettable as Morocco herself. Our team of professionals includes established producers, internationally recognized Moroccan performers, and artistic consultants who have worked for Epcot Center, Walt Disney and Columbia Film productions, and the United Nations, among many others.
Moroccan Wedding Ideas and Morocco for Honeymoon
Enjoy the perfect Moroccan wedding ides or Morocco for honeymoon vacation with our customized, chauffered tours. Choose from the High Atlas Mountains, a thousand miles of beaches, the limitless sands of the Sahara, the ancient cities of Marrakesh and Fez, the best golf courses in all of Africa. Boutique style hotels and riads are all carefully selected to meet your expectations.
Morocco Travel Services
We invite you to learn more about our list of prior clients and our specialized services such as corporate golf retreats, film location management, and our Morocco travel packages.

• Complete, in-house travel agency
• Extensive database of hotels, facilities, affiliates, and service providers
• Comprehensive site research/property analysis
• Comparative summary of potential properties for your review
• Hotel contract analysis and negotiation
• Seminar Group Travel coordination
• Free Seminar Group Air analysis & negotiation
• Toll-free customer service and ticketing
• Toll-free reservations Worldwide Rate Desk
• Discounted rental cars
• Seminar Group Transportation
• Total Seminar Group Travel Management
• Liaison services with hotel staff for detailed planning of the overall program
• Complete on-site management services
• Production of all group travel-related collateral and promotional materials
• Assistance securing speakers, services, transportation, and photographers
• Assistance in locating unique off-site entertainment options, venues, and tours

Contact Us / call us / WhatsApp us at (212) 925-6151 to Book These Special Morocco Day Tours.
Powered by Best Guided Tours Morocco