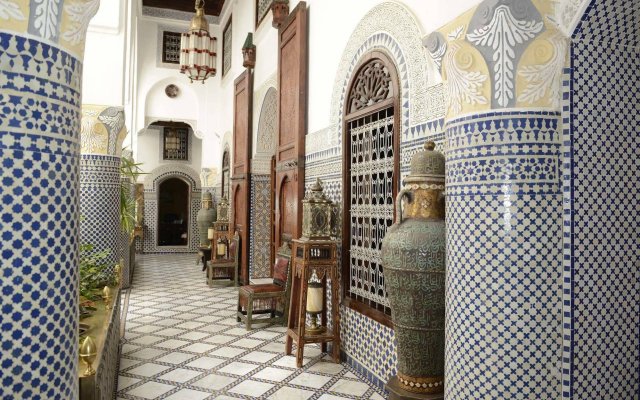 Morocco Travel Agency is the Top Fez Tour Operators Specialized in Tailor-Made Holidays to Suit the More Discerning Travelers for their Holiday Deals Morocco Has to Offer.

Contact Us / call us / WhatsApp us at (212) 925-6151 to Book This Custom Morocco Tour.

This Moroccan Journey is specifically designed to give the traveler the broadest sense of Morocco, its culture, people, geography, and cities. Be prepared for an extraordinary travel experience.

This Morocco Tour can be customized with a private car or luxury van and driver according to your travel dates.
Cost:
USD 2750 per person based on double occupancy
USD 5500 for 2PaxPrice:


Duration: 10 nights in Morocco
Persons: min (2)
Accommodation: Mixed
Activities: Camel Riding, Craft Tours, Cultural Tours, Historical Tours.

Hotels can be changed for lower or higher budgets.
2 people with private luxury car and English speaking driver
3 people and more with a private luxury van and English speaking driver

Please read our Our Policy
Holiday Deals Morocco Itinerary
Feel free to select one of our Top Tours Morocco from our Last Minute Holidays Morocco, or we can customize a special Morocco Tour for you based on your arrival destination from Tangier, From Casablanca, or from Fez itself. If you prefer to start your Holiday Deals Morocco from Fez, feel free to look at the following Morocco Family Tours, and feel free to let us know if you wish to modify or change anything from the program to suit your needs.
Day 1 – Casablanca – Fez
After your arrival at Casablanca airport, you will be escorted by your English-speaking driver to start your Moroccan journey for a ride past centuries-old olive groves and vineyards to the imperial city of Fez.

"Optional stop for a special visit to the famous Hassan II Mosque"

Evening leisure.

Dinner and overnight at your charming riad in the ancient city of Fez.

Meals: Dinner
Day 2 – Fez
Fez is the holiest city in the Islamic world after Mecca and Medina. Founded at the beginning of the 9th century by Moulay Idriss II, and barely unchanged, this enchanting city has been a seat of government, philosophy, medicine, and most notably religion since then. Fez, the best surviving example of an ancient Arab city, is comprised of the "new" city, established in the 12th century, and the 2,000-year-old medina, where donkeys and mules laden with goods still trawl alongside buyers through the ancient market, itself a fascinating maze of lanes, blind alleys and bustling souks assaulting the senses with spices and exotic delicacies. Fez is the perfect place to hone your bargaining skills in buying souvenirs, brightly colored hand-loomed carpets, or fine-crafted artisan goods. Visit the famous leather tanneries, a honeycomb of vats erupting in an explosion of brilliant color. Then, climb to the venerated Merenid Tombs for a spectacular panoramic view of Fez.

B&B at your charming riad Houyam in the ancient city of Fez.
Meals: Breakfast
Day 3 – Fez – Meknes – Volubilis / Moulay Idris – Fez
A ride past centuries-old olive groves and vineyards we near Meknes, the Ismalian capital, famous for its 25-mile-long walls – and, not to mention excellent wine – where we'll stop for a sumptuous lunch in a grand palace. Heading to port Bab El Mansour and Bab El Khamis, journey back thousands of years and explore the ancient Roman ruins of Volubilis sprawled over a wildflower-dotted hillside, where a magnificent triumphal arch presides over the awesome remains of palaces and mansions, Roman baths and basilicas, and stunning mosaics. Follow by a 5 minutes drive for ½ hour walk to visit Moulay Idris.
After, you will take a short drive back to Fez.

B&B at your charming riad Houyam in the ancient city of Fez.
Meals: Breakfast
Day 4 – Ifrane – Azro – Midelt – Errachidia – Erfoud – Camel ride and overnight in the desert
The Middle Atlas region offers many hidden delights. You'll travel through Ifrane, Sefrou, and Azrou. You will have a chance to experience a fragrant cedar forest filled with chatty Barbary apes, enjoy the crystal air of the mountains while you discover rustic Berber villages, and admire the architecture of an Alpine-style village.

1-hour lunch in Midelt

Followed by a 3 hours drive to Erfoud / the last city before civilization ends in that part of Morocco…….. then you will switch to a 4×4 30 minutes ride for your Sahara experience.

A late afternoon, You will explore the mystical Saharan landscape as you ride on a camel over the stunning sugar-fine sands of Merzouga as the red sun sinks. As night falls, listen to the heady intoxicating beat of Berber drum music and song during the traditional pouring of mint tea., and delight in a Moroccan feast of harira soup, a savory tagine (stew with meat and vegetables) or couscous, etc……

At nightfall, You'll sleep under a nomad tarp beneath flickering stars in the clear desert sky. Experience a sense of timelessness in the still, silent desert unchanged since caravans loaded with spices, gold and indigo crossed long ago.

Meals: Breakfast & Dinner
Day 5 – Desert Camp – Erfoud – Todra Gorges – Tinghir – Boumalne du Dades – Rose Valley – Ouarzazate
After a special Berber breakfast, you will take another walk or camel ride from the camp to the edge of the dunes. Follow by a short 4×4 transfer to Erfoud to pick up your vehicle and continue with your journey.
You'll depart for Todra Gorges (you may want to have lunch there), traveling the rugged Road of a Thousand Kasbahs that rise up like turreted sand castles along this ancient caravan trading route. This area has long been a popular location for Hollywood films such as The Last Temptation of Christ, Jewel of the Nile, and most recently Hideous Kinky. The central region is one of the most exciting and romantic destinations of Morocco nestled along rich river valleys, palmeries, and burnished mud-brick homes ablaze in vibrant color under the shelter of the blue desert sky.
A special stop for an hour walks to visit the Jewish quarter in Tinghir including the Berber house if interested in some Saharaoui Souvenirs.
You'll travel through the Dadès Valley past dramatic escarpments and plunging gorges and make a special stop to visit one of the Rose cooperative factories at the rose valley plus a coffee break before you continue your journey for a short drive to your charming hotel in Ouarzazate.

B&B at your charming Hotel Sultana Royal Golf in Ouarzazate
Meals: Breakfast & Dinner
Day 6 – Ouarzazate – High Atlas Mountains / Berber Villages
Today's adventure starts with ½ drive for a special visit to the famous Kasbah Ait Ben Hadou……Then you continue your adventure along with the majestic beauty of the High Atlas Mountains, through the scenic route of Tizi n'Tichka's lush oasis valleys and mountainous areas highly popular with trekkers. You'll stop for a break at one of the Berber villages on your way to Ourika / High Atlas Mountains past a pageantry of fragrant, dense pine and cedar forests, terraced farms, and sienna mud-brick Berber villages to visit the Berber village of Anrar and to have a taste of the Berber lifestyle by having a cup of tea within a Berber family.
(1/2 hour walk to visit the village of Anrar)

Dinner and overnight at your luxury Kasbah Omar at the village of Anrar.
Meals: Breakfast & Dinner
Day 7 – Walking tour to discover the hidden Berber villages of the atlas Mountains
You will explore one of the most beautiful and unspoiled valleys of the High Atlas.
Valley of Ourika rises gently up to the preliminary hills of the High Atlas where small typical villages have nested. It is a pure and magnificent place where silence is only " disturbed " by birds singing, water streams, and wagtails. Ourika is famous for its pottery, minerals, and crystal.
Ourika – 6 hours trekking to discover the hidden Berber villages of the atlas
From our Berber village Anrar at Douar Tafza until we reach the Berber hamlet of Oualmes (1150m) to start our 5-hour hike across the river and up along a narrow winding hillside path surrounded by fields of corn towards Anins and the through the col (1670m) where you have lunch at the Berber village of Tizen-Oucheg that we will set up for you and pay on your own. From here You'll continue your Berber adventure to explore the hidden village of Agard then to Anamer village followed by a short trek that would bring you back to Tazintoute village at 1148m) where you shall cross the Assif Ourika to get to your vehicle for your return to your Anrar village in the early evening for some downtime.

Dinner and overnight at the luxury Kasbah Omar at Anrar village in Ourika.
Meals: Breakfast & Dinner
Day 8 – Marrakech
Morning 40 minutes drive to your charming riad in Marrakech before you explore Morocco's jeweled Imperial Cities, mystical Marrakesh. An enchanting palm oasis set against the snow-capped peaks of the High Atlas mountains.
Afternoon Marrakech highlights by van for a tour around the ancient city walls, passing by the Royal Palace and Marrakech palm grove.

(Afternoon, visit the Majorelle Garden or you can visit on your own the last day )

Evening leisure on your own.
You may want to enjoy the famous Jamaa Elfna Square where you can have diner with the locals on your own.

B&B at your charming riad Hasna in the ancient city of Marrakech.
Meals: Breakfast
Day 9 – Marrakech
(4 to 6 hours walk with your certified guide to explore the entire old city and what has to offer)
Explore the ancient Bahia Palace from the days of the harem, now populated by a sentry of nesting storks, enter the ancient royal Blaoui Palace, explore the vibrant and historic Jewish mellah where some of the best jewelry of Morocco is sold, and see the majestic Koutoubia Mosque before entry into the 9th-century walled medina.
At the end of the day, your guide would show you how to get back to your hotel so that you will be able to be on your own for the evening and would be able to manage on your own the next day.
You may want to enjoy dinner with the locals at the famous Jamaa Elfna Square on your own.

B&B at your charming riad Hasna in the ancient city of Marrakech.
Meals: Breakfast
Day 10 – Essaouira – Marrakech
Morning a couple of hours drive to enjoy the charming Essaouira for a day.

Music legends Jimmy Hendrix and the Rolling Stones were drawn to Essaouira's idyllic charm, which continues to lure artists and musicians alike today to the sparkling whitewashed village trimmed with the brilliant azure of its skies. A former Portuguese settlement in the 18th century, and a current fishing village, its stone ramparts overlook an emerald sea fringed with miles of silvery beach where camels ferry passengers across fine sand. Stroll through serene squares, browse artisan shops and peruse art galleries before having a spectacular lunch by the sea, where freshly caught fish of the day is grilled to a succulent finish before your eyes. Top it off with famous Moroccan mint tea and delectable French pastries at Essaouira's many cafes. A full day will be spent at Essaouira ……. and that is where you can take a camel ride or horse riding at the beach if you wish.

A late afternoon couple of hours drive back to Marrakech.

Dinner at Jamaa Elfna Square with the locals or wherever you may wish on your own.

B&B at your charming riad Hasna in the ancient city of Marrakech.
Meals: Breakfast
Day 11 – Marrakech – Casablanca
Morning, 20-minute transfer to Marrakech airport or 2h & 1/2 transfer to Casablanca airport for your return home with plenty of tales of Arabian nights and days.